La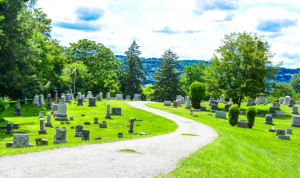 ke View Cemetery Co., Inc. is located behind the Ithaca High School off of Lake Street, which at one time had a commanding view of Cayuga Lake.  It is a beautiful serene resting place of close to 8,000 burials, which includes many notables from the Ithaca community.
On March 31, 1894, Horace E. Hand of Scranton, Pennsylvania and Herman Bergholtz of Ithaca purchased the 640 acre Renwick tract on the north side of Fall Creek at the edge of Cayuga Lake.   Their plan was to include residential areas, a trolley amusement park, called Renwick (now Stewart) Park, and a cemetery to be known as Lakeview.  William Webster, a landscape architect was hired to lay out the amusement park and the cemetery.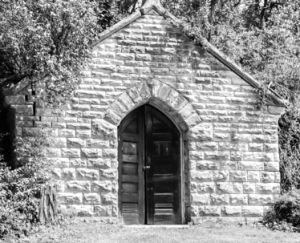 In 1895, a Receiving Vault was constructed by Stephen M. Oltz,  in order to encourage immediate sales of burial lots.  The vault was designed by local architects Clinton Vivian and Arthur Gibbs.
Also built in 1895 was a caretaker's  lodge and entrance gates for the cemetery.  The gates were designed by Vivian and Gibb, only the stone piers remain today.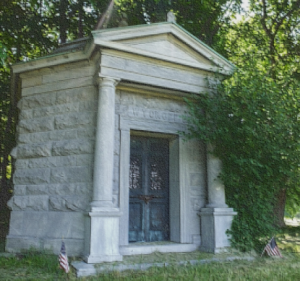 In 1895, William O. Wyckoff of Ithaca died after making his fortune in the manufacturing and sale of Remington typewriters.  His sons, Edward G. and Clarence F. Wyckoff had a mausoleum erected at Lake View as a memorial to their father.  It was designed by famous architect William Henry Miller who also designed many, many homes that still stand in the Ithaca area, one of the best known is, what is now known as the William Henry Miller Inn on the corner of  Aurora and Buffalo streets.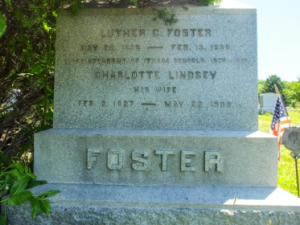 First burial was Luther Clark Foster who died in 1895 and was the first Ithaca Superintendent of Schools in Ithaca.
Historical Progression:  From the early years between 1895 and the mid 1940, there were many deaths due to epidemics, lack of Medical care, etc.  There were a great many Babies that died  during the early months of their short lives.  There were also many stillborn children, sometimes both mother and baby died during delivery.  Life expectancy has also changed, people today are living longer, primarily to much better Medicine.
It was not uncommon to have upwards of 100 burials in any particular year at Lake View.  Today, we may have between 12 and 30 per year.  Of course, the cost of burial lots and funerals has changed considerable.  Cremation is increasingly more desirable.
The Cornell Mausoleum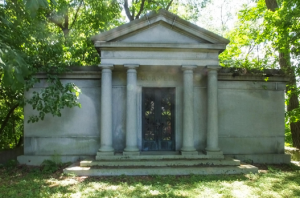 Constructed in 1909, was designed by William Henry Miller in a grotto-like setting at the edge of the cemetery.  The site of this mausoleum had been purchased by architect Miller for his own use, but in January 1909 he transferred ownership to the Cornell Family.
The exquisite decorative work on the interior is said to be the product of the Tiffany studio of New York City.  This Mausoleum contains the remains of many Cornell family members.  Miller's own grave is opposite and on axis with the entrance to the Cornell mausoleum and is marked by a large wrought iron cross.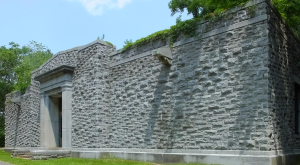 The large mausoleum, constructed circa 1912, is said to have been built as a speculative venture by Eastern Mausoleum Company of Buffalo, NY, which eventually turned over the structure to the Lake View Association.
Today, this building is in need of a new roof, complete pointing on the outside.  Much more work needs to be completed on the inside which is in disrepair due to a leaking roof and lack of regular maintenance.
Among those buried in the Mausoleum is the Architect and builder of the mausoleum, Liberty Hyde Bailey and his family.  Mr. Bailey was a very well known Botanist at Cornell University.  Bailey Hortorium and Bailey Hall are named in his honor.
There are a great many notable people of the community who are buried in Lake View Cemetery.